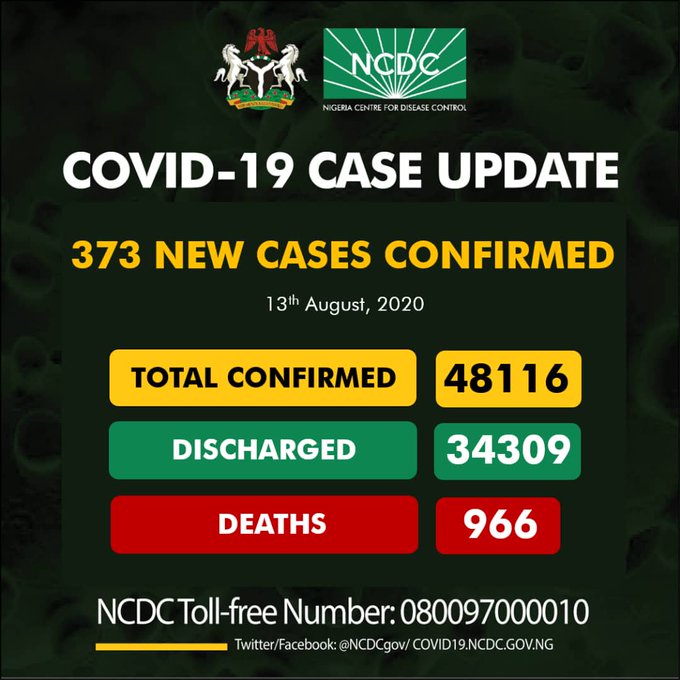 Ten persons died in Nigeria in the last 24 hours of COVID-19 complications, the NCDC announced on Thursday night, bringing
the death toll in the country to 966, in contrast with the 956 logged in on Wednesday and Tuesday.
The increasing death toll was announced as the confirmed cases of coronavirus also went southwards.
373 new cases were recorded yesterday, the total infections is now 48,116 confirmed cases. Cases were reported in 19 states and FCT Abuja, with Lagos state recorded the highest figure for the day.
Lagos recorded 69 cases, in contrast with the 113 confirmed cases on Wednesday. Osun came next with 41 cases. Kaduna tied with Oyo, in the place with 40 cases.
The Federal Capital of Abuja, the second-worst hit after Lagos, reported just 35 cases.
Here is the breakdown of cases state by state:
Lagos-69, Osun-41, Kaduna-40, Oyo-40, FCT-35, Plateau-22, Rivers-19, Kano-17, Ondo-17, Ogun-15, Abia-14, Gombe-12, Imo-9, Enugu-7, Kwara-6, Delta-5, Niger-2, Borno-1, Bauchi-1 and Nasarawa-1.